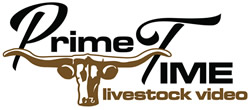 The next auction will be scheduled soon.
The Prime Time Livestock Advantage
The boys Joplin Regional really know how to market our cattle and get top dollar for our farm fresh livestock. Their field reps are always working to provide our operation with the most up to date market data and most importantly THEY CALL US BACK!
Just want to say thanks to the crew at JRS, they were spot on when they told me when to market my cattle and they brought all they could bring!! I will drive a few extra miles to market my cattle with Joplin Regional Stockyards again in the future…
I never tried video marketing in the past, but the experience I had with Joplin Regional and their new company Primetime Video was the best! My remote location in Texas allowed me to save on shrink which everyone knows is dollars in my pocket. I normally have quite a haul to get my cattle to market, and with the video format it saved me a massive amount of shrink in which the sale barn usually can't get back for sale day. I'll Be back!
I would just like to thank Jim Hacker and the guys at JRS for their expertise in marketing my cattle on video, they won't steer you wrong!!
I really appreciate the personal service and expertise of the JRS staff in marketing my cattle on video, they made them bring the market and then some!